Friday, November 30, 2007
Wednesday, November 28, 2007
A few movies i watched recently. :)
SUMO-lah
Pantang Mengundur sebelum berlawan
It's nothing like Yasmin Ahmad's Sepet but it had an odd mix of cultures in this movie. Sumo-lah focuses on the rules behind the sport applied in daily life.
The plot was rather predictable lol. But still, pretty good for a local movie! 2 hours for this was rather long though but if you are a Gurmit fan, you will sit through this (zoning out occasionally, if you must.). :P
I was just waiting for Afdlin to win against Gurmit.
I give this movie a 6.
Gurmit's snob-ness a 7.
Fake Japanese Accents a...
Nvm.
My Father(2007)
K-movie Genre stereotypes. It's either a humanitarian, romance, disease, comedy, teenage angst, mafia vs. police, horror or Joseon-period movies. Some one surely dies. One thing they all have in common is, they make you cry.
Fine. I won't spoil it. For the sypnosis, refer to google. It's everywhere coz this is a K-box office hit. DANIEL HENNEY IS SOOO HAWTT!
I give this movie an 8.5.
I give Kim Young Chul a 10.
KYC delivered his role awesomely!
Welcome to Dongmakgol (2005)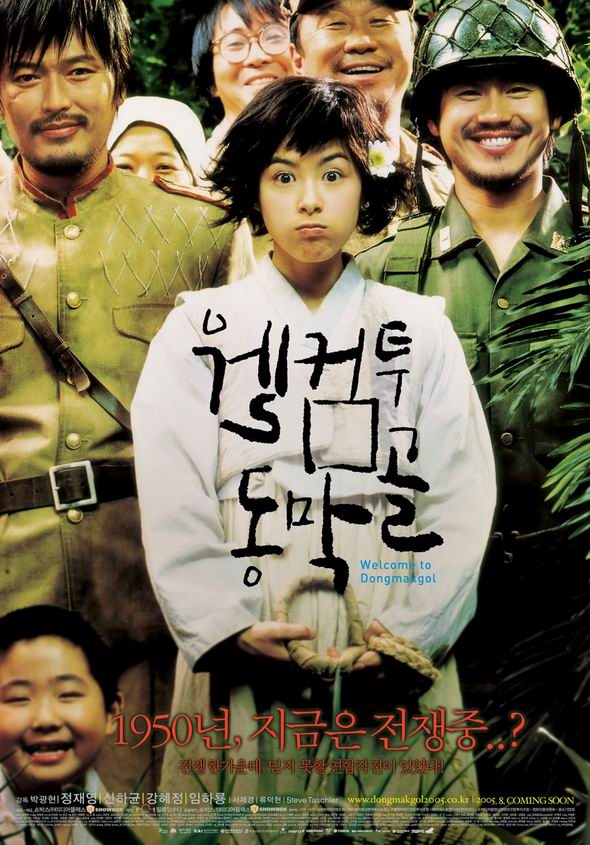 It's an epic!
Set during the Korean War in 1953, 3 Northeners meet 2 southerners in a village that is completely sealed out from the outside world come together to realize that they can learn to get along. There's a yankee too. It was funny at first, but towards the end...
Stock up tissues. That's all I'm saying.
Spin Kick (2004)
Kim Dong Wan is such a dork in this Movie. This movie revolves around teenage vices, street fighting, tobacco, alcohol and what not. The problem only starts when the principal, desperate after the 6 taekwondo members got hospitalized, agrees to bail 6 of the schools nightmare ghetto students from jail if they agree to get through the priliminnaries.
So you can see how bad turn good and
Kim Dong Wan acting dorky :P
the good always prevail that sort. The rivalry between him and Hyunbin i felt is too intensed. We never really got a clue if any of them got together with Su Bin.
There is a moral in every story and this is no exception. It's not the best korean film i've watched. But watch it anyway. Hyunbin in this is really different from his Kim Sam Soon days.
Shinhwa fans should watch this. lol.
She's on Duty (2004)
If you think Kim Sun-Ah was great in Kim Sam Soon think again. She was even better in this! She played her role really well.
A rookie cop forced to head back to school to befriend the daughter of their prime suspect. As soon as you see her step into school, prepare to laugh.
Gong Yoo!
ROFL.
If you like Action and Humour, you'll like this one.
Beowulf (2007)
The posters are everywhere.
Jolie doesn't want her kids to watch this.
I find it superficial.
To put it crudely, jolie toots an old bastard and get a monster, you do it with a young warrior you get a handsome strong golden dragon.
Does that equation work?

Good CGI nonetheless! Towards the end, the fight was awesome.

The Wedding Singer (1998)




Adam Sandler!!!! *gushes*

"Even let you hold the remote control..."

Dawwww~

I knew the song. Never watched the movie. And I finally did. Deh.. what have i been doing for the past 9 years missing out on a show like that!!!

Thumbs up for the 80's setting!

Spoilers end here.
Posted by

Sze Jia
at 11:16 pm
0 comments
Links to this post
Tuesday, November 27, 2007
Sunday, November 25, 2007
Friday, November 23, 2007
Thursday, November 22, 2007
Sunday, November 18, 2007
Wednesday, November 14, 2007
Sunday, November 11, 2007
Saturday, November 10, 2007
Friday, November 09, 2007
Tuesday, November 06, 2007
Sunday, November 04, 2007
Saturday, November 03, 2007
Friday, November 02, 2007